Welcome to Restaurant ene. in Fredericia
Lunch
'Stjerneskud' 190,-
Crispy panko-breaded plaice and cold-smoked salmon on home baked dark bread with hand peeled shrimps, steamed fish and lobster mayo.
Beef Tartare 170,-
Served with crispy salad, chunky pommes frites, anchovy mayonnaise and homemade aioli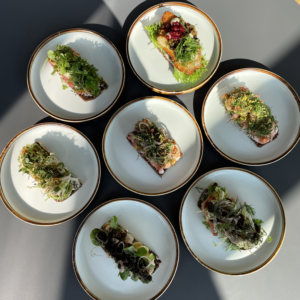 'Smørrebrød' – Danish open faced sandwiches
Choose between traditional rye bread or homebaked dark bread
Potatoes 70,-
Smoked aioli, long roasted tomatoes, pickled shallots, bacon crumble
Chicken in smoked chili aioli 75,-
long roasted tomatoes, homemade potato chips, pickled shallots
Cold water shrimps 75,-
lemon mayonnaise, long roasted tomatoes, pickled shallots, bacon crumble
Cold smoked salmon 80,-
Lemon mayonnaise, avocado, smoked almonds, dill
 Panko-breaded plaice 80,-
sauce tartare, lingonberries, lemon, capers
Veal tartare 85,-
anchovy mayonnaise, pickled shallots, homemade chips
Dinner
The full experience 899,-
Our whole-evening experience offers..
Snacks and a glass of bubbly
5 courses with wine, water ad lib., coffee and petit four
Appetizer 105,-
snack of the day and a glass of bubbly
5 course menu 480,-
Our menu changes monthly
3 course menu 360,-
Our menu changes monthly
Wine menu of 2 glasses 180,-
Wine menu of 3 glasses 250,-
Wine menu of 5 glasses 370,-
About Restaurant ene.
Fine dinning with a modest price and casual atmosphere located by the beautiful canal in the new area af Fredericia. 
Expect to be greeted by one of the owners and their team of attentive and knowledgable waiters. 
Enjoy you next meal at Restaurant ene. and experience the combination of the Areewan's creations in the kitchen where nordic cuisine meets her asian heritage and Euan's passion about wine elevated with good conversations and scottish charm. 
This partnership between the two owners was honored by the people of Frederica as the restaurant was tittled "THE CITY'S BEST RESTAURANT 2021" in the spring of 2022.